Here at Brightside, we've been collecting data all about your favourite mode of transport - motorcycles. If you're a fan of the two-wheel ride and have ever wondered which areas have the most biker clubs, thefts or the least amount of time stuck in traffic, you can thank us later.
We looked at various data sets including: vehicle thefts, road accidents, rainfall, speed limit, car accidents, petrol prices, motorcycle test pass rates, time spent in traffic and motorcycle clubs. We looked at cities and towns around the UK, including Edinburgh, Liverpool, Leeds and Reading.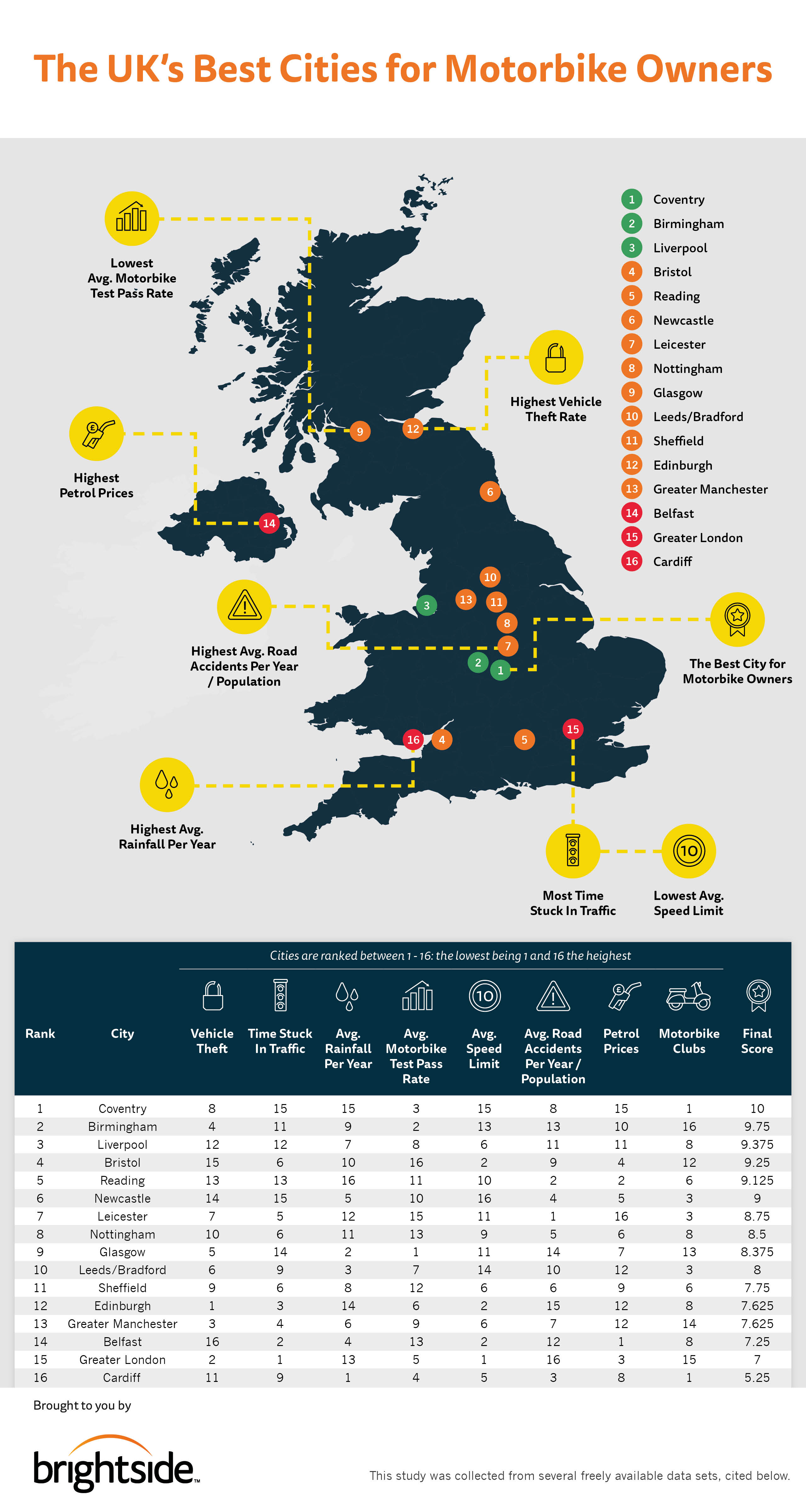 Surprising statistics
Looking at petrol prices at Asda and Tesco stores throughout the UK, surprisingly, Belfast led the pack with the most expensive petrol prices. At 120.52p per litre, it was around 3p more expensive than Leicester, which averaged the cheapest petrol prices at 117.36p.
If you're looking into taking your motorcycle test, Bristol is the best place to do it. Residents here have the highest average pass-rate at 76.55%, with Leicester and Nottingham coming slightly behind. Glasgow has the lowest number of passes by far at only 57.30%, with Birmingham following at 63.95%.
Looking to join a motorcycle club in your area? If you live in Birmingham, you're spoilt for choice as you have 18 to choose from! However, if you live in Cardiff or Coventry then you may need to drive further afield as both cities only have four clubs. Surprisingly, even though only 57% of Glaswegians pass their motorcycle test, there are 13 clubs in the city and surrounding area!
Not-so-surprising statistics (and they're mostly about London)
Greater London has the largest population, so we would expect to see the highest number of accidents here, especially in the inner-city areas. The data doesn't contradict this - a huge 13,470 road collisions were reported in the capital. This is massive compared to Leicester, where only 164 reported accidents occurred.
London tops the board again with the lowest average speed at a frustrating 7MPH. This is 12MPH slower than the fastest region; drivers in Newcastle-upon-Tyne cruise at a respectable average of 19MPH. This data goes hand-in-hand with the number of hours drivers are sat in traffic – Greater London residents were stuck in traffic for a whopping 227-hours last year , while Newcastle and Coventry residents only endured 90 hours.
Perhaps residents of Belfast have something to be thankful for – the sky-high petrol prices are offset by the fact that thieves don't seem to be as interested in vehicles . Our research discovered that only 303 vehicles were reported stolen in the Belfast area! This is almost 2000% lower than Greater London. A shocking 6121 vehicles were reported stolen in the capital city, with Birmingham following at 1741.
The best and worst areas for motorcycle owners
Cardiff has the largest amount of average rainfall a year at 1151.9mm, and the least number of motorcycle clubs, and as such it's officially the worst place to own a motorbike. However, road accidents are relatively low, with 505 accidents reported last year which is a shocking 96% less than in the Greater London Area
Now for the winner. And, surprisingly, it's Coventry! The average speed is a respectable 17MPH, residents only spend 90 hours per year stuck in traffic, and enjoy a scant 700mm of rain per year and cheaper petrol – in short our research shows that Coventry is the ideal place to be a motorbike owner. However, there's a compromise. Residents will have to travel further afield to find a broader range of motorcycle clubs, as there are only four in the area. This isn't too much of a hard task as Birmingham is only 20-miles away and there are 18 clubs there to choose from!
To summarise, if you want to pass your motorcycle test you should learn in Bristol rather than Glasgow, and if you don't want your vehicle stealing then head over the water to Belfast. If sunshine is your thing then steer clear of Cardiff, and if you love listening to Radio 1 then make your way to London, as you'll probably be stuck in traffic for a while. Owning a motorbike is extraordinary and can be the start of a spectacular adventure. We have a range of bike insurance policies to suit your needs, so please contact us for further information or get started with a bike insurance quote online
Wondering where the data came from? We collected together several freely available data sets, cited below. Each set has been calculated per city, and some, such as vehicle thefts and road accidents, have been averaged per capita to create a more even comparison. Each city was ranked and scored based on how they compared to each other and could earn a score of up to 16 points (being the best in their category) to 1 (the lowest ranking score). When cities had the same score (e.g. both Belfast ad Nottingham had the same number of motorcycle clubs) they were given the same score, and then those above were given increasing scores. These scores were then added up to a final amount which gave each city a final average score.
Citations:
Population & Vehicle Theft
https://www.ukcrimestats.com/Postcode_Areas/
Hours Stuck In Traffic & Average Speed Limit (The speed at which a driver can expect to travel one mile into the central
Rainfall Per Year
https://www.statista.com/statistics/322810/average-rainfall-in-the-united-kingdom-uk/
Motorbike Test Pass Rate
https://www.gov.uk/government/statistical-data-sets
/motorcycle-riding-test-data-by-test-centre
Average Road Accidents Per Year
https://webarchive.nationalarchives.gov.uk/20110504041511/
http://www.dft.gov.uk/adobepdf/162469/221412/221549/227755/rrcgb2008.pdf
Petrol Prices
Motorbike Clubs
https://www.bmf.co.uk/motorcycle-clubs/local-clubs/